EDITED: MARCH 20TH 
DOG SHOTS FOR MAY 19TH IS SOLD OUT. PLEASE CHECK BACK NEXT MONTH FOR DETAILS ON OUR NEXT WORKSHOP 
Update on our May 19th DOG SHOTS workshop!
Five seats remain. We want to keep the group small so that we all have time to shoot and ask questions. We expect to be sold out by the end of this week.
We will be holding the indoor portion of our workshop at the Aloft Hotel in Plano, TX.  A very cool, dog friendly venue that's very easy to find.  We will practice our indoor shooting at the hotel, discuss setting up the shot, using our manual settings and have lots of fun talking about dogs and their body language during the morning.    
After a quick lunch we will go out in to nature and set up some outdoor shots in the beautiful open areas close by. It will be a very full day -- so dress comfortably and travel light. You will not need a computer, just your camera bag with your favorite lens (or two).  You will be very tired at the end of the day -- so if you're driving in from another city, we strongly suggest you stay over. Besides we may all want to linger in the hotel bar after we shoot.  And in case you're wondering if you can get a cute shot at a hotel... check out our little model, Sophie (below). She modeled for us at Aloft last year.
The Aloft currently offers a discounted online rate of $84 per night if you book online and prepay -- so don't delay! Book now and get the best rate.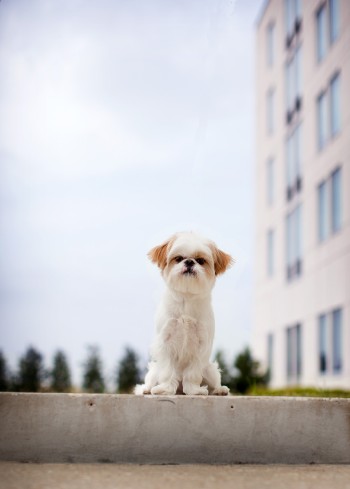 If you are just now finding out about the Dog Shots workshop, you can find more information on the previous post on this blog.  This one day workshop is $295 and held in Plano) a suburb of Dallas) Texas and designed for pet lovers with DSLRs.  Hope you can join us!