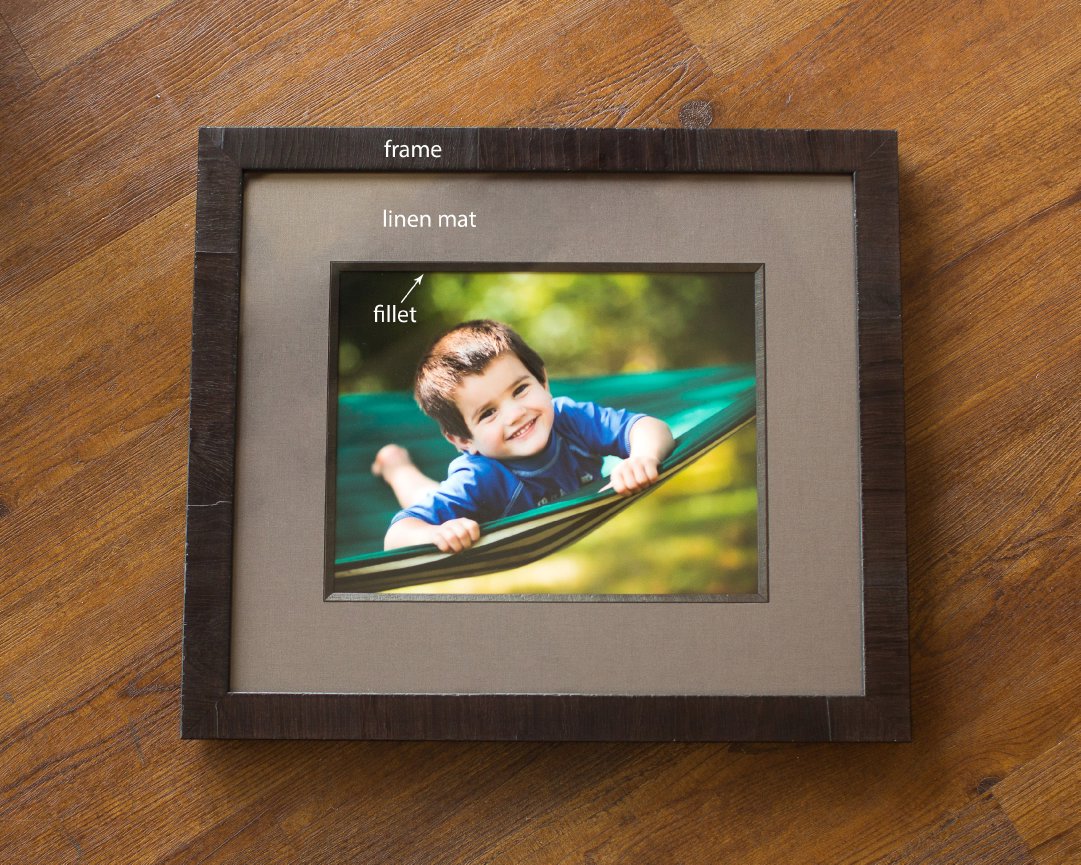 Many thanks to guest blogger, Kevin Hamilton of Quad Framing in Dallas for this great article on framing.  Quad is a great frame shop run by artisans. They specialize in working with photographers to offer good quality framing for their clients. We love their work and I know you will, too!    Teresa
My hope is to help eliminate the confusion about "how" & "why" framing your images in a compelling, protective and pleasing way is so important for you and your family.  In that process, I wish to dispel the concerns about design, measurements and cost and will show you 5 items to know about framing that will ensure you're images and frames will be enjoyed for generations. 
Let's begin at the beginning.  You've made the worthwhile investment into timeless prints that not only deserve protection but need to be showcased and enjoyed by you and others every day.  It's so easy to showcase your life story however images are not enjoyed nearly as much when they're living under the bed (don't worry, we're going to help you through this).
 Here's a quick primer on framing.  Framing should not upstage the image but it should always support the image and create a space on your wall that depicts how important that space now is.  The frame and setting should add importance and help guide the eyes of the viewers and cause them to pause and ponder the moments that were surrounding these amazing images.  Yes, this snapshot of your life's story is that important and the true value of the piece is seeing it and sharing it.
Now let's go one step further.  These pieces are not just for you.  These frames and images are for you and future generations.  Generations, really?  Yes, really.  This is the number one reason why you should protect your priceless images properly.  Don't worry it's easier and probably less expensive than you think.  The small investment in something that can last and protect your images for a lifetime is very reasonable especially compared to non-archival framing that you find in big box stores and online.
 Yes, you want to design a beautiful piece for your home right now.  However, with guidance from your photographer, picking a timeless combination of image, frame as well as the use of archival quality components will help you create a gift to hand down.  The families who enjoy your framed gifts decades from now will deeply appreciate the connection, joy, tradition and reminders of your love.
So let's look at the 5 key items:
1)   Absolutely number one on the list?  Matting.  Acid Free Mats & Linen Mats.  When you buy framing at a typical large box store or through an online store, you are typically getting low, low quality mats loaded with acids found in papers.  What's the problem?  We have seen it too many times, your images begin to take on a greenish or yellowish tint within just a few years.  Soon the image is unsalvageable. 
    Endurance and design are the two reasons to use rag mats or the beautiful, rich looking linen mats.
 2) Not every framer invests in this next step, but we always recommend a sealed assembly.  This is the technique of using acid free tape to bind together the substrate, the image and mat and glass components.  This helps eliminate dust and particles from falling in on your image.  This thereby keeps your mats looking clean and helps eliminate harmful exposure to your images.
3)  Top of the line moldings.  In addition to using acid free mats and Tru-View glass, now you have the ability to get the most respected names in moldings:  Larson-Juhl, Roma, Universal Arquati and several others, right from your photographer.
 4)  Trust - Your photographer is going to offer what truly looks best for your images and ensures you are happy with your selections.  They know your family, they might know your home and budget.  You've already trusted them with your memories, now trust them with displaying.  Without knowledge of you or what you are trying to accomplish, the guidance can be pretty limited.
 Compare this experience with your typical big box framing stores who often try to lure you in with cheap frames.  Typically the moldings are low quality and can have a cheap appearance.   Their intention is to make sure you are overwhelmed enough to then load you up with five (poor quality) mats, three fillets and a stacked frame.  If you look deeper and understand their needs you can understand why they do what they do.  A big box chain and a local custom framer have huge retail rents to pay and are forced to try to up-sell as much as possible. 
Remember your photographer has a different perspective.  They are far more interested in building a long-term relationship with you, your family and the people you recommend your photographer too.  Your photographer is going to guide you to what is appropriate for you.  Your photographer can now offer the most comprehensive experience to go from the camera to your walls
 5)  Get a workmanship Guarantee.  We stand behind our work and will ensure you're continued satisfaction is maintained.  It's simple, we love what we do and we feel a responsibility to help families keep and pass on their histories, traditions and memories.
 Kevin Hamilton